American Express Membership Rewards is offering a 30% bonus on transfers to Etihad Guest through June 15. American Express only added Etihad as a transfer partner two weeks ago so it's great to see them bonusing transfers. They are probably trying to boost this partner so they are offering this promotion. In the past we have seen promotions on other partners like british Airways and El Al.
That means the points from your Amex Everyday Preferred, Premier Rewards Gold, Business Gold, Business Platinum and other Membership Rewards earning cards carry more weight. One third times more weight!
Etihad has a very good first and business class product, and because availability has been generally excellent. Now to be sure the single best first class product in the sky — the Etihad First Apartment, which is scheduled for Abu Dhabi – New York JFK< London, Sydney, Melbourne, and Mumbai — can be tough to get.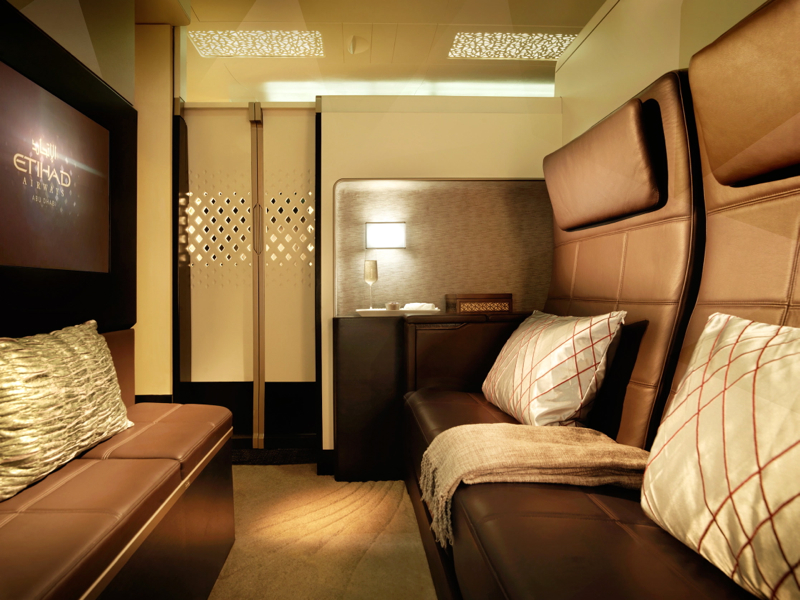 Availability goes in cycles (and for awhile has been much easier to get Abu Dhabi – US than US – Abu Dhabi). I've flown it several times this year on the New York JFK – Abu Dhabi route but availability for that flight isn't a gimme.
Nonetheless, Etihad offers first class service with other aircraft to New York, San Francisco, Los Angeles, Dallas, and Washington Dulles. They offer service that features business class as the top cabin to Chicago and Toronto.
Award prices aren't cheap. For instance,
New York JFK – Abu Dhabi first class is 117,560 miles one-way
London – Abu Dhabi first class is 87,732 miles one-way
Business class is somewhat cheaper, for instance 88,391 one-way for New York – Abu Dhabi.
Etihad also adds surcharges to awards: $50 per segment for economy, $100 per segment for business, and $150 per segment for first class.
Etihad has several airline partners, which have to be booked by phone. Etihad agents are often unfamiliar with their partners, and with how to book them.
What's more, the cost of awards on partner airlines can be high. Nonetheless, they can also be strategically useful. For instance, Etihad partners with Philippine Airlines and they almost always have business class award space between the US and Asia. And they partner with American. Etihad partners with carriers like Virgin Australia, Royal Air Maroc, Garuda Indonesia, Oman Air, and Hainan Airlines as well as a variety of others.
Partner award charts can be found here and are much more lucrative,but partner awards are not bookable online, which means you have to play call center roulette. You also need to book partner awards 14 days in advance.
Every airline has their own award chart. For example:
–The Brussels award chart can be found here.
There are no fuel surcharges.
-You can fly from JFK-Brussels in coach for 21,972 miles or about or about 16,902 AMEX points round-trip.
-You can fly from JFK-Brussels in business for 36,620 miles or about or about 28,169 AMEX points round-trip.
-You can fly from Brussels-Tel Aviv in coach for 12,096 miles or about or about 9,304 AMEX points round-trip.
-You can fly from Brussels-Tel Aviv in business for 20,160 miles or about or about 15,508 AMEX points round-trip.
To summarize that is 26,206 points to fly round trip JFK-BRU-TLV in coach or 43,677 miles to fly in business. Judging a normal business class ticket to Israel would run you around $6,000 this is a $.13 redemption per mile. That is ten times the normal redemption.
HT: View from the Wing and DansDeals